Hi everyone!
Tomorrow is Easter and we will be celebrating with my family this year. I am bringing the appetizers and I'm going with Fresh Vegetable Pizza, Avocado Ranch Dip and Spicy Sweet Deviled Eggs. I'm going to do some veggies and maybe pretzels with the Ranch dip. The photo of the deviled eggs look like footballs because I got the recipe at Superbowl time I won't make mine look like that. They'll just be traditional looking. I think I may bring one of the desserts I posted a couple days back too, maybe the trifle!
Fresh Vegetable Pizza
Amy - amylz
Pillsbury - Makes: 60 appetizers
2 (8-oz.) cans Pillsbury Refrigerated Crescent Dinner Rolls
1 (8-oz.) container sour cream
1 to 2 tablespoons prepared horseradish
1/4 teaspoon salt
1/8 teaspoon pepper
2 cups fresh mushrooms, chopped
1 cup chopped seeded tomatoes
1 cup small broccoli florets
1/2 cup chopped green bell pepper
1/2 cup chopped green onions
1. Heat oven to 375°F. Separate dough into 4 long rectangles. Place rectangles crosswise in ungreased 15x10x1-inch baking pan; press over bottom and 1 inch up sides to form crust. Seal perforations.
2. Bake at 375°F. for 14 to 19 minutes or until golden brown. Cool 30 minutes or until completely cooled.
3. In small bowl, combine sour cream, horseradish, salt and pepper; blend until smooth. Spread evenly over cooled crust. Top with all remaining ingredients. Cut into small squares. Store in refrigerator.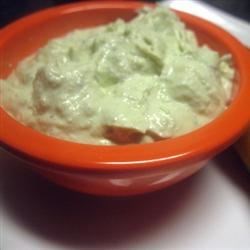 Creamy Avocado-Ranch Dip
Amy - amylz
1 (16 ounce) container sour cream
1 (8 ounce) package Neufchatel cheese
1 (1 ounce) package ranch dressing mix
3/4 teaspoon hot sauce
1/4 teaspoon garlic salt
1/4 teaspoon celery salt
2 avocados, peeled and pitted
1. In a food processor, mix the sour cream, Neufchatel cheese, ranch dressing mix, hot sauce, garlic salt, and celery salt.
2. In a bowl, mash the avocados, and mix in the sour cream mixture until well blended. Cover, and chill until serving.
Spicy-Sweet Deviled Eggs
Amy (amylz)
Southern Living, SEPTEMBER 2004
1 dozen hard-cooked eggs, peeled
1/2 cup mayonnaise
3 tablespoons mango chutney
1/8 teaspoon ground red pepper
Kosher salt to taste
Garnish: sliced fresh chives
Cut eggs in half lengthwise; carefully remove yolks. Mash yolks; stir in mayonnaise, chutney, and red pepper until blended. Spoon yolk mixture evenly into egg white halves. Sprinkle evenly with desired amount of salt. Garnish, if desired. Chill until ready to serve.
Amy