Hi everyone!
Tomorrow we are having friends over for dinner and I am making Ham and Pineapple Kabobs. These will be so easy to make up and I think kid friendly. On the side I'm going to make Edamame, Corn and Bacon. If you haven't tried edamame, you really should. You can buy it in the freezer section and I always buy it shelled. Then I'll be making Fried Rice. This is a simple recipe I found in the Fun with Chinese Cooking cookbook that I checked out from the library.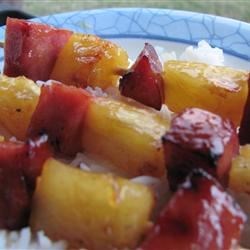 Ham and Pineapple Kabobs
Amy (amylz)
Servings: 4 All Recipes
3 tablespoons brown sugar
2 tablespoons distilled white vinegar
1 tablespoon vegetable oil
1 teaspoon prepared mustard
3/4 pound cooked ham, cut into 1 inch cubes
1 (15 ounce) can pineapple chunks, drained
skewers
Preheat grill for high heat. In a medium bowl, mix together brown sugar, vinegar, vegetable oil, and mustard. Thread ham and pineapple chunks alternately onto skewers. Lightly oil grill grate. Place skewers on the prepared grill, and brush liberally with the brown sugar mixture. Cook for 6 to 8 minutes, turning frequently and basting often. Serve when heated through and richly glazed.
Edamame, Corn, and Bacon
in the style of The Bonefish Grill
*rebecca*
1/2 small onion
2 slices bacon
1 cup edamame, frozen
1 cup whole kernel corn, fresh or frozen
Salt and pepper to taste
Chop onion and bacon into pieces and place them in a food processor. Pulse until onion is minced but you can still see pieces of bacon. Saute over medium heat until onions are clear and bacon is done. Don't let them get brown. Meanwhile, place edamame in a microwave safe bowl, cover with plastic wrap, and cook for 2 1/2 to 3 minutes. Add to bacon/onion mixture and also add the corn. Cook over medium heat until heated through and desired doneness is achieved. I like my edamame and corn with a bite to it, not mushy. Add salt and pepper to taste.
SHARON's NOTES: I didn't see any reason to dirty a second bowl so I cooked the bacon and onion until the bacon had browned (the recipe says not to let it brown but i like it better that way) and then I added the frozen edamame and put the lid on the pan (no need to add extra water, the onions had released some) and let it steam about 2 minutes or so. Then I stirred in the corn, turned off the heat and let it stay warm on the stovetop until we were ready. Easy dish!
Fried Rice
Amy - amylz
Fun With Chinese Cooking
1/2 pound chopped ham or cooked shrimp
1 egg
1 cup fresh or thawed frozen vegetables
4 cups cooked long grain rice
2 cloves garlic, finely chopped
1 tbsp light soy sauce
2 tbsp vegetable oil
Add 1 tbsp of the oil to the wok then place over medium heat. Add the garlic and stir fry until it turns pale golden brown. Add the ham or shrimp together with the vegetables to the wok. Stir fry for 1 minute. Add the rice and stir fry until all the ingredients are well mixed. Place the rice mixture on a plate. Add the remaining oil to the wok. Beat the egg in a bowl, then add it to the wok. Stir with a fork to scramble the egg. When cooked, put the rice mixture back into the wok. Pout the soy sauce on top and stir fry until well mixed. Serve hot.