Hi everyone!
Tomorrow we are having Lemon Peppered Broiled Fish. We recently discovered that our 6 year old loves fish and chips so I thought I would give regular white fish a try. On the side I'm going to serve Orzo with Parmesan and Basil. We'll also have green beans.
Lemon-Peppered Broiled Fish Katie (Katiedid) Serves 4.
1 lb any fresh fillets
1 T butter, melted
2 T lemon pepper seasoning
1/4 tsp dried thyme leaves
1/4 tsp paprika
1/8 tsp celery seed
1 T butter, melted
2 tsp fresh lemon juice
Fresh minced parsley
Combine butter with lemon pepper, thyme, paprika and celery seed; brush on fillets. Place on single layer on oiled grill rack or broiler pan. Grill or broil 4 to 5 inches from heat for about 10 minutes or until fish flakes with fork. Melt another tablespoon of butter and mix with lemon juice and spoon over fish; sprinkle with parsley.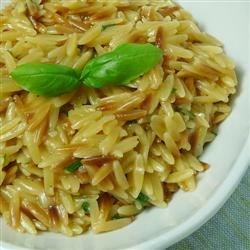 Orzo with Parmesan and Basil Missy~missybase
2 T butter
1 cup uncooked orzo pasta
1 (14.5 ounce) can chicken broth
1/2 cup grated Parmesan cheese
2 T dried basil
Melt butter in a skillet on top of the stove at med. high heat. Add uncooked orzo. Saute until lightly browned. Add chicken broth and bring to a boil. Turn heat down to low and cover pan. Simmer until pasta is tender and liquid is absorbed--about 15-20 min. Add parmesan and basil and serve!