Hi everyone!
Here are the breakfasts for this week:
Happy Pancakes
Amy (amylz)
Turn plain pancakes into a cartoon happy face for a cheerful kid's breakfast. A pancake or two on a plate makes a face. A slice of crispy bacon creates a smiling mouth, two strawberry halves create the eyes and swirls of syrup create the hair. Or, make a pancake with a sliced banana mouth, sliced banana eyes and scrambled egg hair.
French Toast
Amy (amylz)
loaf sliced bread
3 eggs
1/2 cup milk
sprinkle cinnamon
Blend eggs, milk and cinnamon in flat dish. Heat griddle. Soak both sides bread in egg mixture and fry on griddle.
Pumpkin Pancakes
Katie (KatieDid) from Scholastic Parent & Child October 2006
2 c flour
2 T light brown sugar
2 ½ tsp baking powder
½ tsp salt
1 tsp ground cinnamon
½ tsp ground allspice
½ tsp ground ginger
2 c milk
1 c canned pumpkin
1 large egg
1 tsp vanilla extract
3 T canola oil, plus additional for greasing pan
In a medium bowl, whisk together flour, sugar, baking powder, salt, and spices. Set aside. In a large bowl ask your child to measure and add milk, pumpkin, egg, vanilla, and oil. Combine well. Add dry ingredients to pumpkin mixture and stir just until dry ingredients are moistened. Preheat griddle or skillet on medium heat. When a drop of water sizzles in the pan, brush lightly with oil. Pour about ½ cup batter for each pancake. When the tops bubble and the edges look dry, turn with a spatula and cook until the underside is golden. Remove from pan and serve immediately or keep warm on a platter in an oven on low heat. Serve with maple syrup! Makes about 16 4-inch pancakes.
Apple Snapple Oatmeal
Amy - amylz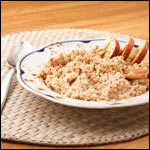 (This recipe yields 4 servings)
1 medium apple or pear
3 cups apple juice or cider
1 and 1/3 cups regular rolled oats
1/4 cup raisins or chopped pitted dates
1/4 teaspoon ground cinnamon
milk (if you like)
brown sugar (if you like)
On a cutting board, use a sharp knife to cut the apple or pear into 4 pieces. Cut out the core and throw it away. Chop each piece. In a saucepan, put the chopped apple or pear, apple juice or cider, oats, raisins or dates, and cinnamon. Stir with a wooden spoon to mix. Put the pan on the burner. Turn the burner to medium-high heat. Cook just till bubbly. Turn the burner to low. Simmer, uncovered, for 5 minutes, stirring now and then. Turn off the burner. Remove the saucepan from the burner. With a large spoon, put the oatmeal into 4 cereal bowls. Serve immediately with milk and brown sugar, if you like. This can also be made in the microwave. Just reduce the liquid to 2 and 1/2 cups. Microwave the stirred ingredients on high for 3 minutes in a covered microwaveable 2-quart casserole dish. Stir and microwave 3 minutes more.
Bean and Egg Tortillas
Amy (amylz)
1 can black beans
1 cup salsa
4 eggs
Flour tortillas
Shredded cheddar cheese
Rinse the black beans and empty them in a skillet with salsa. Boil the two together. In a different pan or a bowl, break the eggs and cook them well. Once the eggs are done, mix a scoop of beans with the eggs and garnish it with shredded cheese. Stuff it in a tortilla and eat it hot.
Erika's Baked Oatmeal
Erika
2c oats
2 eggs, lightly beaten
1t salt
3/4c brown sugar
3c milk
1/2c blueberries
1/2c diced peaches
Heat all ingredients except for fruits in large saucepan until thick (to boiling?). Add fruit, simmer and stir to distribute evenly. Pour into lightly greased 9x13 pan and bake at 350 for 30-45 minutes. Serve with warmed milk or cream
Erika's Notes:I normally use less sugar (maybe a scant 1/2c). Any milk will work but it will obviously have a richer flavor with a milk with at least a little fat (I like to use 2%). Fresh or frozen fruit may be used. Any combo of fruit will work as well. I've used strawberries, blackberries, dried cranberries, dried currants, etc.