Hi everyone!
Merry Christmas! Tomorrow we'll be having Christmas dinner with my husband's family and I'm bringing dessert. I'm going with a few different things. First is a Triple Berry Crisp. My husband's family loves berry desserts so I think this will be great. My husband really wants me to do Marionberries but I'll see what I can find. Next I'm doing Peanut Butter Cookies. I love this recipe because my nephew who is Gluten Free and Dairy Free can have these. The last one is an Apple Cake. I haven't made this one before but everyone who has raves about it. I thought it would round things out nicely.
Triple Berry Crisp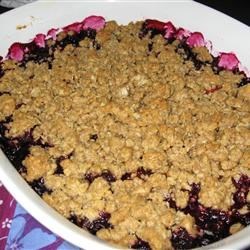 Amy (amylz)
All Recipes Yields: 18 servings
1 1/2 cups fresh blackberries
1 1/2 cups fresh raspberries
1 1/2 cups fresh blueberries
4 tablespoons white sugar
2 cups all-purpose flour
2 cups rolled oats
1 1/2 cups packed brown sugar
1 teaspoon ground cinnamon
1/2 teaspoon ground nutmeg
1 1/2 cups butter
1. Preheat oven to 350 degrees F (175 degrees C).
2. In a large bowl, gently toss together blackberries, raspberries, blueberries, and white sugar; set aside.
3. In a separate large bowl, combine flour, oats, brown sugar, cinnamon, and nutmeg. Cut in butter until crumbly. Press half of mixture in the bottom of a 9x13 inch pan. Cover with berries. Sprinkle remaining crumble mixture over the berries.
4. Bake in the preheated oven for 30 to 40 minutes, or until fruit is bubbly and topping is golden brown.
Quick Peanut Butter Cookies
Michelle (MMmom)

1 cup sugar
1 cup peanut butter
1 egg
1 tsp baking soda
6 oz chocolate chips, optional (I never use them)
Preheat oven to 350. Mix all ingredients. Roll dough into walnut-sized balls. Press slightly with fork. Bake 8-10 minutes on ungreased cookie sheet. Cool 2 minutes before removing from pan. Makes about 2.5 dozen
SUPER-DUPER APPLE CAKE
jojobee81 via cooks.com
Cake:
4 cups white cake mix
1 1/2 cups applesauce
Icing:
4 tablespoons butter
1/2 cup brown sugar
1/2 cup powdered sugar
1/4 cup of milk
For Cake: Mix white cake mix with applesauce until smooth. May take more or less applesauce. Use at own discretion. Pour mixture into a 9X9 inch baking pan sprayed with cooking spray. Bake at 350F in a conventional oven for 30 to 45 minutes or until cake tests done.
For Icing: Melt butter in a sauce pan. Add the remaining ingredients for the icing, stirring rapidly with a wire whisk until smooth. Pour over cake.